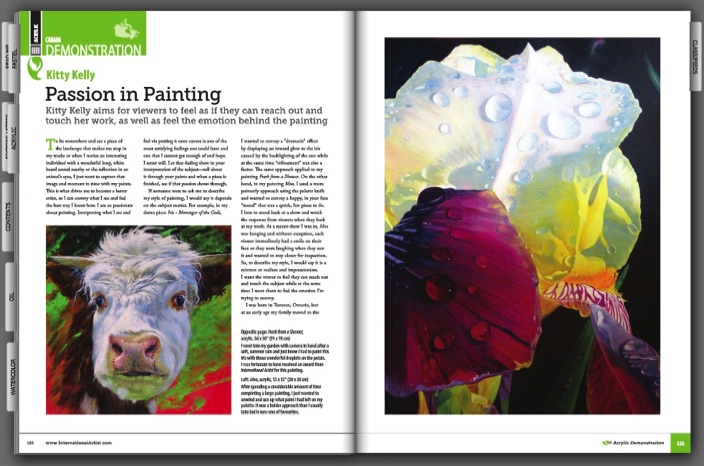 Kitty Kelly SCA AFC
(613) 213-0728
Kitty paints because it makes her happy - it is her passion.
Born in Toronto, Ontario, Kitty has lived in Australia, British Columbia, P.E.I. and now resides in Brockville, Ontario. She is an elected member of the Society of Canadian Artists - SCA as well as an acting juror for the society, a signature member of Artists For Conservation - AFC, as well as a member in several local associations. Kitty donates her artwork to charitable organizations to help raise funds toward their causes i.e. Ontario Society for the Prevention of Cruelty to Animals; Canadian Diabetes Society; Play for Children; Brockville General Hospital. She is a supporting member of Ducks Unlimited - Canada, as well as Animal Alliance of Canada.
Self-taught, she paints in a realist style using acrylics. Having grown up in the country, she has an affinity for flora and fauna, which is evident in her works. Kitty wants the viewer to feel as if they could step into her paintings, and when she observes someone looking at one of her pieces and smiling, then she knows she has achieved her goal.
Due to her love of wildlife, she has taken workshops from several acclaimed wildlife artists including Michael Dumas, David Kitler, Terry Issac, and Robert Bateman, as well as wildlife art workshops in Wyoming, Montana and British Columbia.
Her works have been published in International Artist Magazine, the most recent being May/June 2020, with one of the editions featuring an eight-page illustration of how a painting developed from start to finish. Through competition her paintings have been chosen to be included in North Light Books - Acrylicworks 3/2016; Acrylicworks 4/2017; Acrylicworks 5/2018; Acrylicworks 6/2019; and Acrylicworks 7/2020. Kitty has had winning entries in the Annual Alumni Art Competition at the Marriane Van Silfhout Gallery in 2016, 2017, and 2018.
Many of her paintings hang in corporate offices and in the homes of private collectors in Canada, U.S.A, Europe and Australia. Kitty was the recipient of the People's Choice Award at Perivale Gallery's "In the Spirit of Tom Thomson & The Group of Seven Show" for her painting of "First Light".
Representation:
Perivale Gallery, Manitoulin Island, Ontario
Hang Ups Art Gallery, Brockville, Ontario
kittykelly.ca